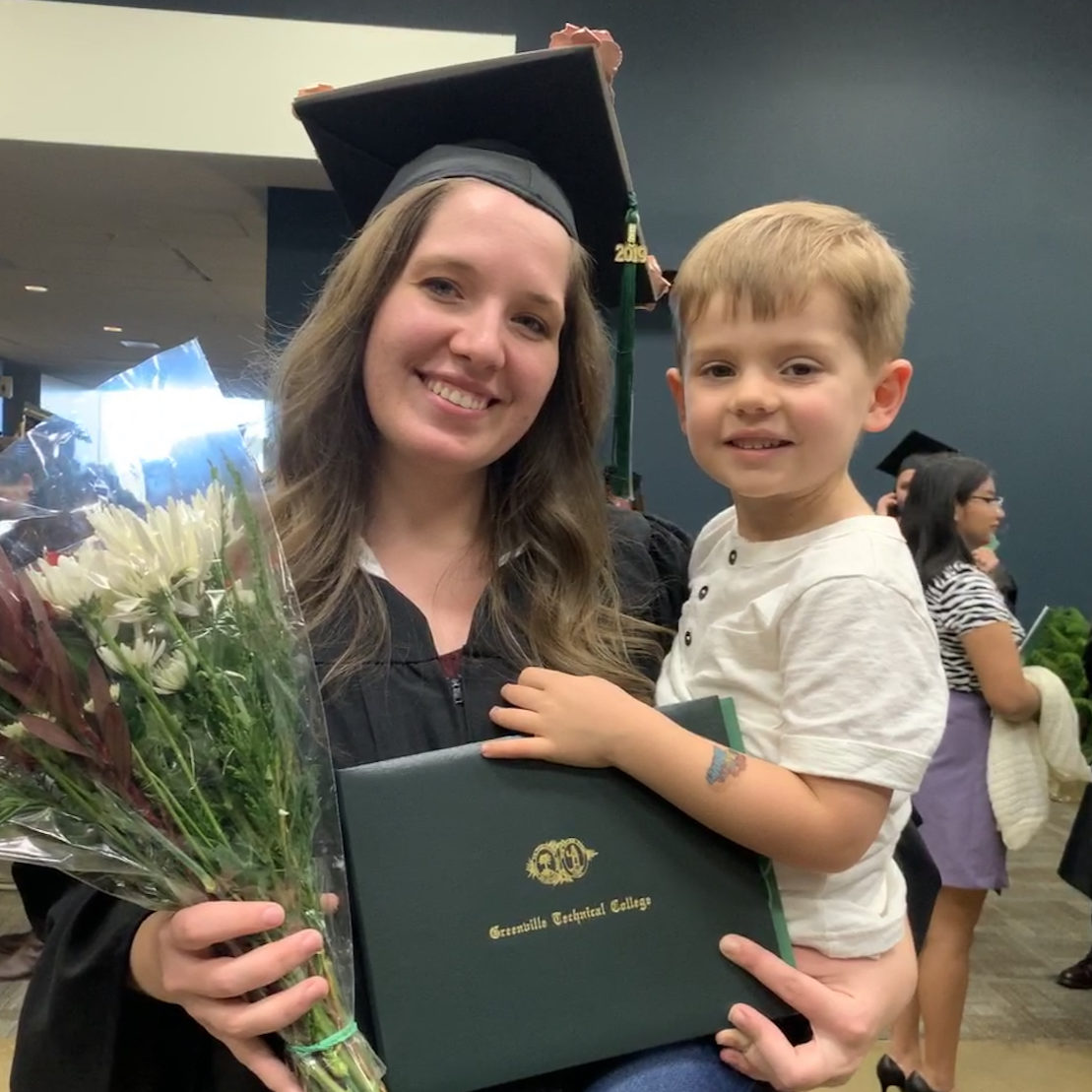 Allie Carlson
Greenville Technical College
"I wouldn't have the opportunities I have today without Greenville Tech and my instructors."
My name is Allie Carlson. I'm a single parent and a graduate of Greenville Technical College's ultrasound program.
When I was in high school, I wanted to be a doctor. My plan was to do two years at a technical college and transfer to a university formedical school. I took some dual enrollment classes during high school at Tri-County Technical College, so it was an easy option to continue there after I graduated. I spent about a year and a half at TCTC, but then I had my son.
How did parenthood change your goals?
I had my son when I was 19, so I wasn't sure that college was going to be feasible. I thought, "Okay, medical school is not happening." But I knew I needed to have a career. My mom was a single parent, and I saw how hard she worked to make sure my sister and I had everything we needed. I am very grateful for how hard she worked, but she had to work really long hours.
I knew I wanted to make sure my son had everything he needed, but I also wanted to be able to spend time with him. I didn't want to be working 80-hour weeks. I didn't want financial stress to cloud the happiness of parenthood. I knew that going to college, getting my degree, and getting a job in a good field with lots of job security was the best path for me. I buckled down and powered through it, and I feel like I can be a better parent because of it.
I think becoming a mom gave me the drive to actually get things done. It gave me more motivation than I've ever had before. I just felt like, "I can't give up. I have no option but to get through this." Now, I feel super proud of how hard I worked.
What did you know about the technical college system?
I'm a first-generation college student, and I knew I didn't want to take out a bunch of student loans. I had spoken with TCTC recruiters, and I also had a lot of long conversations with the guidance counselors at my high school. They knew that the financial aspect of college was something I was worried about, so they recommended a technical college and encouraged me to believe that college was still possible.
I had taken four college classes by the time I graduated high school, and that really helped me transition into the college mindset. My first full-time semester of college was not nearly as daunting because I had that experience. By the time I got to Greenville Tech, I had it down.
I also had a really great group of friends and we all did dual enrollment classes and started out at Tri-County together. I was really lucky to have a group of friends that appreciated technical college because I didn't feel like the odd one out for going to tech.
How did you decide on a career path when you went back to college?
I always wanted to work in the medical field. I have several family members who worked in radiology, and I shadowed them as a kid. Going into work with them and seeing what they did every day helped me realize that was the path I wanted to take.
Even after I had my son, when I knew medical school wasn't an option, I knew I wanted to do something that was still mentally stimulating and challenging. I did all my research, and I felt like ultrasound was a great fit.
What was it like going to college as a single parent?
Being a single parent was definitely difficult. Financially, I had to make everything happen. On top of paying for textbooks and tuition, I was also paying for diapers, formula, clothes, and childcare.
There were a few times I had to run my child over to somebody's house an hour away from me, just so they could watch them, so I could go to classes. There were a lot of sleepless nights and lots and lots of miles on my car, driving around trying to find somebody who could watch my kid.
How did you manage all of these responsibilities?
Greenville Tech really stepped up with assistance programs I didn't even know about when I first started. The Caring Corner Food Pantry was basically a grocery store on campus with non-perishables, toiletries, and things like that. You could just go and shop for what you needed, and they would just give it to you for free. It still blows my mind.
They also had the STAR Program, which provides basic needs support for students. At one point during college, I wasn't sure if I was going to have a place to live and a place that would watch my son. I remember sitting in the office of the program's director for hours one afternoon and she called shelter after shelter after shelter to find emergency housing for me. Thank goodness, I didn't end up needing it, but they were just so invested in making sure that my basic needs were met so I could continue with my education.
I think the biggest blessing of that program was that they would pay for childcare. We ended up finding a daycare for my son, and for the last year of my time at Greenville Tech, all of his childcare was paid for, which was a huge financial weight off my shoulders.
It seemed like everyone at Greenville Tech was working overtime to make sure that I was going to get through it and that I was taken care of. I know they weren't just doing it for me; they were doing it for all the other students in the program. They were just a bunch of really, really dedicated hardworking individuals. I'm super grateful for all that they did for me and for all the other kids that they've worked with.
How has graduating from Greenville Tech changed your life?
I wouldn't have the opportunities I have today without Greenville Tech and my instructors. I'm extremely, extremely thankful to Ronda Nicholson and Beth Darby. They work in the Diagnostic Medical Sonography (DMS) department, and they are my superheroes. They put me in touch with Greenville Tech's assistance programs and I definitely would not be here without them.
The college also has such a great partnership with Prisma Health, and a lot of us students were able to go to their hospitals and outpatient centers for our clinical education. That's how I ended up getting the jobs I'm working now at Prisma.
And to this day, my instructors continue to update a Facebook group for DMS students with job postings. They have really good connections in the ultrasound world, and they were really great at plugging us in wherever we would fit in the ultrasound community.
What's the most exciting thing about achieving your goals?
I am saving up to buy my first house! My son and I are so excited. I've been able to work over the last year and a half, almost two years to save up, and I think I'm ready to take the jump soon. That has probably been my biggest accomplishment.
What advice would you give to other folks thinking about their future?
Crunch the numbers! It really clicked for me when I started looking at the cost of a four-year college versus the cost of the technical college, especially in South Carolina.
With the grants and the scholarships that are available, it's absolutely possible for the cost of a technical college to be covered if you apply yourself and get good grades in high school. I think it's a great decision to better your future and ensure financial security down the road.
If you can get free education and all you have to do is put in the work, then why not do that?