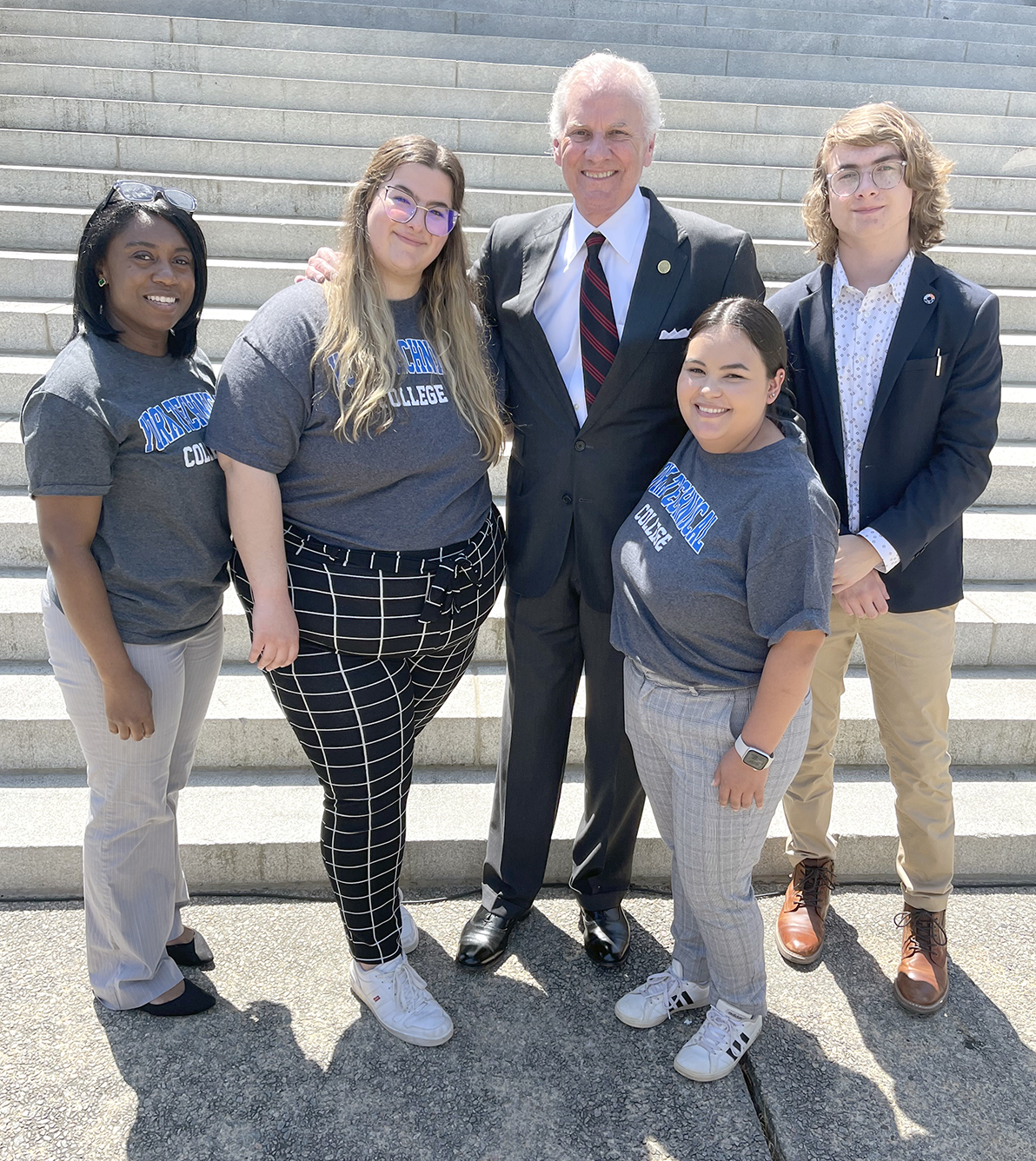 Adri Miñarro
York Technical College
"I never want to end up in a position that leaves me angry at my past self for not doing better and trying harder…. I always want to be better than who I was yesterday, and I get to decide what comes next."
Even as a child, Adri Miñarro seemed destined for a career in healthcare. The York Tech student's path has been dotted with everything from science kits and deaf classmates to a "ghost" diagnosis and a health coaching certification. It seems fitting that Adri's next step is to graduate with an Associate of Science degree and continue pursuing her lifelong love of medicine at a four-year institution.
You can trace your interest in science and health all the way back to your childhood.
Yes! When I was a kid, I was never into playing dress-up or having imaginary friends or anything like that. But I loved it when my parents bought me science stuff – microscopes or lab kits or make-your-own body scrubs. I loved to see the chemical reactions if I added something different to the mix.
Fast forward to 2020, when you completed an online Health Coaching program through the Institute of Integrative Nutrition. What led you in that direction?
I had always been interested in the sciences – I especially love genetics! – and I was in all of the premedical classes in high school. But I had some really limiting beliefs about myself – that I wasn't smart enough or good enough – and those beliefs kept me from pursuing medicine as a career.
So after graduating high school, I actually took steps to join the military. In fact, I was only one sign away from going to boot camp. But something internally told me not to, to instead take a year to really think through my future.
Since about age 16, I'd also been dealing with some personal health concerns. That's when I first noticed that my toothpaste tasted like a bunch of chemicals, and I sort of intuitively felt like something was wrong with me hormonally.
Then I got diagnosed with polycystic ovary syndrome (PCOS), a hormonal disorder.
I wanted to figure out how to help myself, so I tried a lot of natural products – supplements with maca powder, smoothies, juice cleanses. And I tried all kinds of diets – vegan, keto, high protein. Then I came across the Institute of Integrative Nutrition. It's geographically located in New York but also provides an online curriculum for students worldwide, with lots of videos, TED Talks, quizzes, and tests. I liked that it was backed by science but takes a more holistic approach. So I figured I would get my education there and then start my own business as a health coach.
After I completed the program, I took another supplementary course, Hormonal Health. In that class, I learned about PCOS and thyroid functions, testosterone issues with men, and all sorts of hormonal imbalances in both men and women. And it really helped me personally.
I thought I wanted to go into the business side of health coaching, so I enrolled in York Tech's program for Business Administration with an Entrepreneurial Specialization. But I quickly realized that was not for me! I took a semester off to recalibrate. And that's when I realized I always go back to medical. So I decided to see how it would go if I got my Associate of Science degree. And it all just kind of came together. I've been making pretty great grades, and I'm a tutor for Anatomy and Physiology.
It seems like being diagnosed with PCOS was a pivotal moment for you.
I got the diagnosis when I was 19. And to be honest, it's been a crazy ride!
PCOS is like a ghost disorder. Others can't see it because it doesn't physically manifest on a person's body or through their actions, but it can still be very painful, very stressful. And women with PCOS tend to have a higher likelihood of suffering from depression or anxiety. So it's like they're going through many little battles all the time.
Sometimes I just have to tell myself that it's not me, it's my hormones, and try to figure it out. It can be challenging for sure.
Speaking of challenges… you believe that our society should do more to promote deaf culture. That's why you founded the American Sign Language (ASL) Club at York Tech.
I moved around a lot growing up, and one of my high schools in Florida had an ASL class instead of another language like Spanish or French or German. Not knowing what it was, I decided to take ASL. I learned a lot about deaf culture in that class, especially from one of my peers, who was blind and partially deaf, and his signer, who accompanied him and would help him communicate with us and vice versa.
Because of that experience, I came to believe that deaf culture should be more generalized in America and that ASL should be something that everybody learns growing up so that we integrate everyone into our society, not just hearing people.
York Tech does not currently offer ASL classes, and there was no club for it. So I decided to create one. I found an advisor, did all the paperwork, recruited members. And right now, it's really successful. We're all learning ASL collectively to keep each other accountable. And we're going to start doing community service projects and spread more awareness about the deaf community.
That's one of the things I love about York Tech – that I always see some type of reward come back for the effort I put in. It's not a constant grind. I get a lot in return, whether through attending conferences or Phi Theta Kappa events, being invited on school trips, or taking advantage of incredible opportunities like the Legislative Delegation, where I'm able to meet different legislators and share my story with them.
Initially, you were thinking that all of this may lead to a career in Osteopathic Medicine. What is that exactly?
When you try to become a doctor, there are several different routes you can take. You can become a Doctor of Medicine (an M.D.), which requires completion of regular medical school and is offered by many different colleges. Or you become a Doctor of Osteopathic Medicine (a D.O.), which is more holistic. Like M.D.s, D.O.s also incorporate medicine; however, they might do some form of bone or muscle manipulation to treat or prevent illness or injury. I personally appreciate the empathy that D.O.s show their patients.
And if not Osteopathic Medicine, maybe genetics?
Since middle school, genetics has been my first love! It's something I've always been interested in. Ideally, I would like to transfer to North Carolina State University and pursue my bachelor's degree in the field.
And while being a D.O. would be great, I also had a little come-to-Jesus moment and realized that I would rather prioritize having a family than becoming a doctor. If, after having kids, I have the opportunity to go back to school to study osteopathic medicine, that would be totally fine. But it's not necessary.
I think understanding that is the result of cultivating my "why," of finding the thing that drives me to be successful. For me, that's my future self and my future family. I want to have a financially stable and fruitful life. On low days, I remind myself of my "why" and keep pushing forward.
A lot of times when we ask students to share with us about the person who has had the greatest influence on them, they respond with a parent, teacher, or mentor who has made a positive impact. Your answer is different.
There have been a lot of people both in my past and currently whose life choices I really don't agree with. The way they deal with life and how they've gotten to where they are have motivated me to realize what I'm not willing to put up with and how I don't want my personal life to go. I never want to end up in a position that leaves me angry at my past self for not doing better and trying harder.
Remember how I said earlier that I used to feel like I wasn't good enough or smart enough to go into medicine? Well, I've learned that it's not about being the smartest person in the room. It's about being determined and disciplined enough to hold yourself accountable for what needs to get done in order to achieve your goals. I always want to be better than who I was yesterday, and I get to decide what comes next.