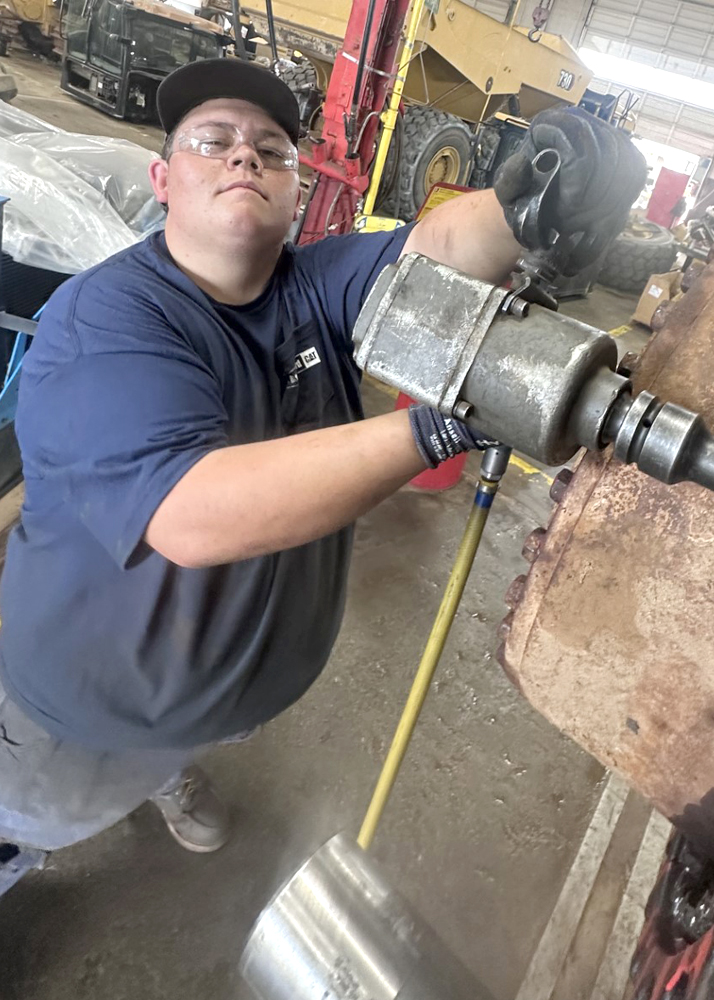 Andrew Long
Florence-Darlington Technical College
"I think there's a special type of accomplishment in knowing that you're keeping the machines that build the state's infrastructure running."
My name is Andrew Long. My proudest accomplishment is being accepted into the Caterpillar® ThinkBIG program at Florence-Darlington Technical College. When I complete the program in June of 2024, I will have earned my associate degree in Diesel Technology, one year of Caterpillar dealer experience, and a year's wages by working in a sponsored internship. And I will have guaranteed employment with Blanchard Machinery upon graduation.
You say you've always been mechanically inclined and had an interest in cars, big trucks, motors, and heavy machinery.
Yes. When I was younger, I was always helping my dad work on his truck or tractor. In high school, I wanted to sharpen my technical skills, so I took automotive classes and had a work-based learning internship at a local garage in Clover, SC. I was also enrolled in York Tech's Middle College program, where I took welding classes two days a week and machining classes three days a week.
When I found out that FDTC had the ThinkBIG program, I knew that's where I wanted to go, what I wanted to do. And those previous experiences helped me quite a bit, especially with my welding class here at the college and knowing how to take measurements with precision tools.
One of the requirements of the ThinkBIG program is securing a dealer sponsorship. This includes a mechanical aptitude test, multiple interviews, a background check, drug screening, and a physical. Was that an intense process?
It may seem intense, but the process is really just intended to help both the company and the student. Caterpillar has lots of applicants for the ThinkBIG program every year, and they want to make the best decisions about who they choose for the program. After all, they are hiring their future workforce! And for me at least, this was the first time that I had really been interviewed for a position by a major company. They made it a great experience overall.
This program is a partnership between FDTC, Caterpillar Inc., and local Caterpillar dealers in the Carolinas. What does that look like for students?
The cool thing about the ThinkBIG program is that the internship at Blanchard is actually a class. We do about 8-10 weeks at FDTC, then another 8-10 weeks at Blanchard working in the shop.
At the college, our instructor Stephen Murphey always makes sure we understand the systems of operation and how they pertain to the curriculum that we are learning. In our shop, we have dealer-level tools, such as COM adapters and flow meters. And we have over 50 different motors to be able to learn and understand fuel systems, engine basics, and specifications on various sizes and types of engines.
During our internship at Blanchard, we still have schoolwork to do, such as daily reports about our experience and weekly discussions with our classmates. But we also have lots of great hands-on experience. I work as a shop technician on heavy machinery such as bulldozers, excavators, motor graders, etc. My favorite task is troubleshooting because it allows me to go in depth and find the root cause of the machine's problem.
During my internship, I've also learned many useful interpersonal skills, like how to interact with coworkers, customers, and executives. For instance, once when I was working with an older, more experienced tech to pull the transmission on a wheel loader, we had to coordinate our movements – what we were unbolting or taking off – to ensure that we both stayed safe.
Speaking of unbolting… does Caterpillar offer a tooling stipend?
The dealer provides tools for labs and classwork at the college and a toolbox and tools for you while you're in the internship. If you work at the dealership for three years after you get your degree, they take two $25 payments out of your check, and you get to keep the toolbox and tools.
So starting something new at your local technical college has been the right decision for you?
Yes! Four-year colleges aren't for everyone, and that's okay. FDTC is in a great location, and the student support is wonderful. The college really cares about preparing students for careers they can be successful in, including the trades. The job market is hurting for tradesmen and -women. But these jobs pay well, and the work is fulfilling. I believe in Blanchard's slogan – "We build SC." I think there's a special type of accomplishment in knowing that you're keeping the machines that build the state's infrastructure running.