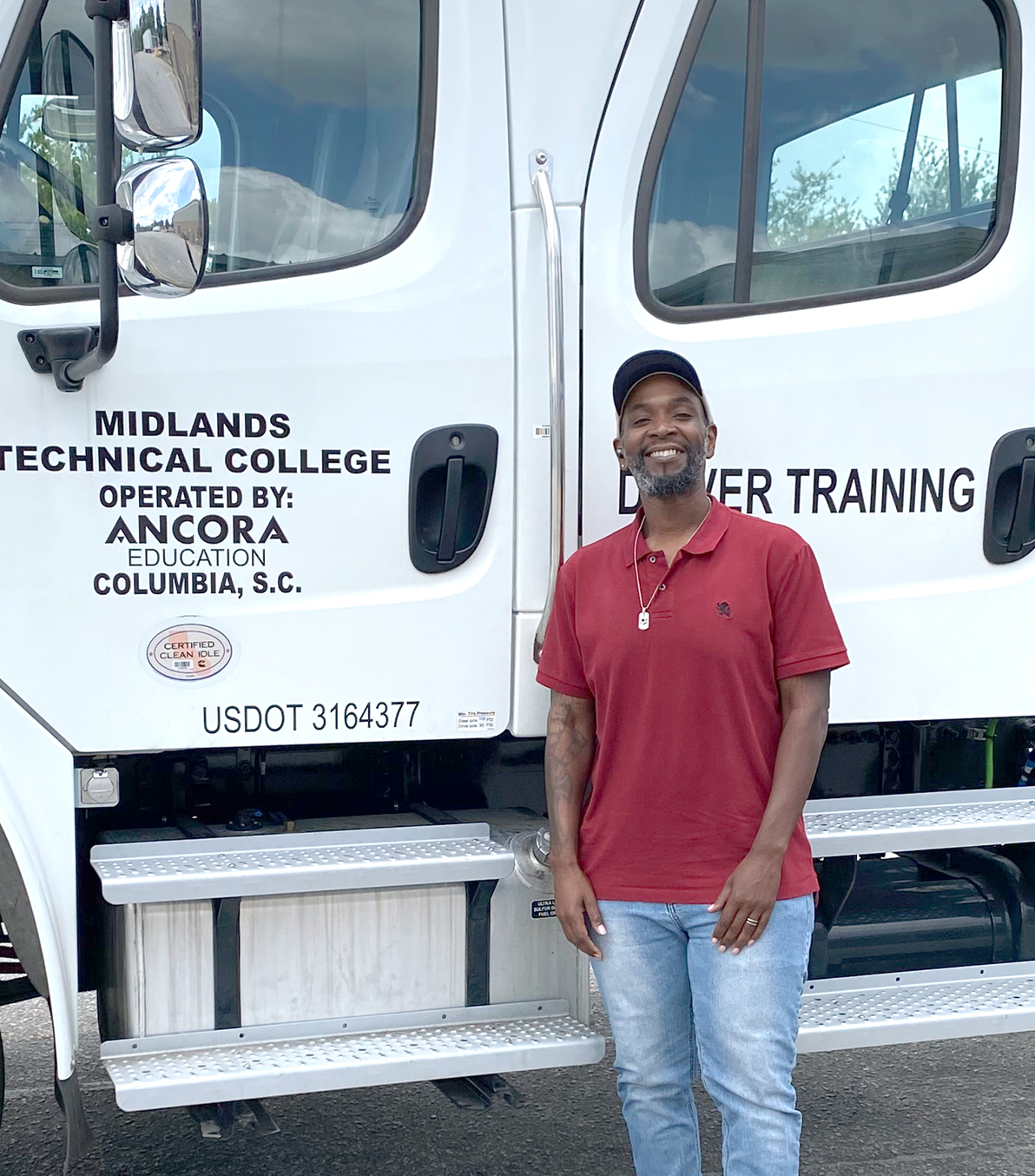 Byran Gilyard
Midlands Technical College
"My dream is to be a strong provider for my family, provide a service to people, have peace, and enjoy my job."
Shalom! My name is Byran Gilyard, and I recently obtained my Commercial Driver's License (CDL) certification from Midlands Technical College. For some, that certification is merely a piece of paper, but for me and my family, it was an absolutely transformative experience.
This is your second career. Tell us how you made the leap from nursing to truck driving.
My mother dedicated over 30 years as a Registered Nurse, and she greatly influenced my decision to enter the healthcare field. She instilled in me the importance of prioritizing God and extending a helping hand to others. So immediately after high school, I entered the workforce and kick-started my career as a Nursing Assistant. After some time, my aspirations led me to pursue an education to become a Licensed Practical Nurse. I had heard from many others that Midlands Tech had a top-notch nursing program, and I wanted to be a part of it. So I enrolled and had a great experience.
Unfortunately during that time, my mother fell ill, and she eventually succumbed to her health battle. After that devastating loss, I took a hiatus from school and worked several different jobs. Following the pandemic, I decided to take a different career path altogether. I didn't want to go to school for a long time, and I remembered how comfortable I'd felt when I was at Midlands Tech years before. So I visited the college's website and saw over 150 different programs – many of which could be achieved in less than six months. When I found the CDL class, I was all in. My dream is to be a strong provider for my family, provide a service to people, have peace, and enjoy my job, and this training allowed me to accomplish that.
Money was no obstacle for you because you received a QuickJobs Scholarship. What was that process like?
The Program Director, Michael Ross, made applying for the QuickJobs Scholarship a blessing! Though it was a multi-step process, it was not difficult. I attended an information session online, filled out an application, and went through a background check, DOT physical, and drug test. I was able to get all of those eligibility requirements done in a timely manner and without any problems. But the best part is that my entire tuition was covered; I had no out-of-pocket expenses. That's why there is no excuse for people not to take advantage of this opportunity. It's proof that Midlands Tech and Ancora Education [who partners with MTC to offer CDL training] want to invest in us.
What was your CDL training like?
Midlands Tech offers weekday and weekend trainings, and since I still had to work my regular job Monday through Friday, the weekend option was perfect for me. I trained on Saturdays and Sundays for eight weeks.
Initially, the coursework was overwhelming, but I believe I can do all things through Christ who strengthens me, so I pushed forward. Plus, the lead instructor, Vaughan Lisbon took his time to teach and review the material with us to ensure we understood what was needed to be successful in this industry.
When it was time to take the test, I felt prepared for all three parts.
The first part was the pre-trip inspection, where you have to name and understand just about every part of the truck and trailer in under 45 minutes. The second part included three different maneuvers, such as a straight-line back, offset back to the left, and parallel park. And the last part was driving the truck safely on the road course. But the BEST part was hearing the person from the DMV say, "Well done! Your hard work has paid off, and now you're a professional driver." I couldn't wait to tell my family and send a picture of my CDL to Mr. V, letting him know that I did it and how much I appreciated his help and support.
Any surprises during your training?
It was a pleasant – if surprising – experience to see that women made up half of my CDL class. I have a family member who drives trucks for a major company, and she was a big influence and help to me while I was in class and training. It's exciting to see that women are rocking it out here in the trucking industry!
You completed your program in the fall. Have you been able to put that education to good use?
Oh yes! Werner Enterprises is the trucking company that gave me an opportunity. They really care about their drivers and make working for them feel like a family. I am a Dedicated Regional Driver, which means I only drive in certain states. For me, that's the Southeast – anywhere from Texas to South Carolina – and I deliver to Home Depot stores and distribution centers as well as third-party vendors.
In the future, I would like to become an owner/operator so that I can invest in others. I really enjoy helping people and working to provide what I call a true service. I am a man who will always put God first and never forget where He has brought me, so why wouldn't I share my blessings with others?
If you do become an owner/operator and have your own truck, how would you customize it?
My truck would have a picture of my mom on it from when she was in high school, along with her initials LMG and the words "Life Made Great." It would be my way of upholding her legacy by loving and providing for my family, just as she did for me.
And Byran, tell us what you like to do for fun. (We can't help but appreciate the irony!)
I love to spend time with my family and play the drums. I am a self-taught drummer and musician. I have played at church and sung back-up for my uncle's group, Reverend Matthew Mickens and the New Highway Travelers.
It sounds to us like Byran is a New Highway Traveler in more ways than one!