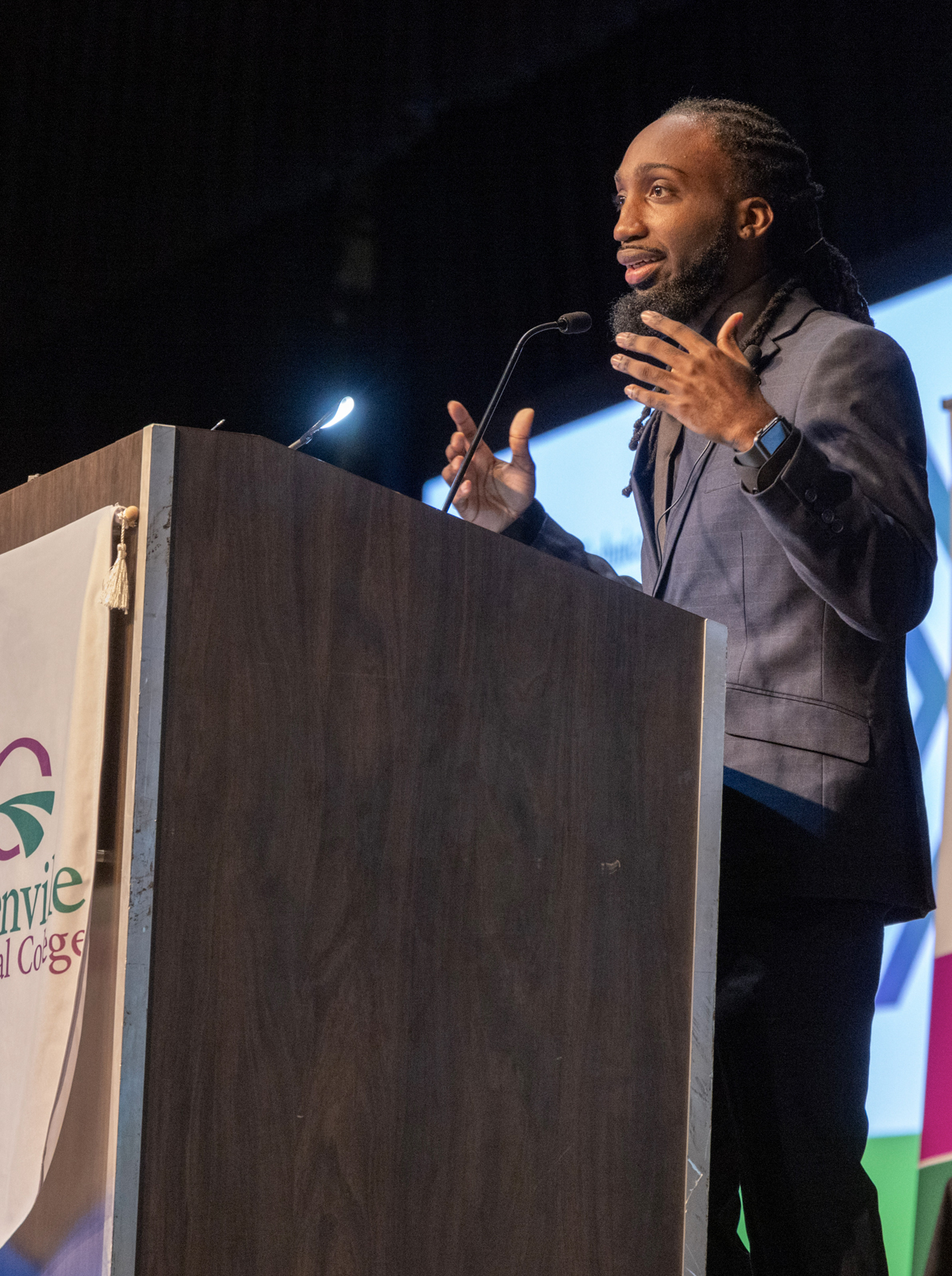 Harry Dent
Greenville Technical College
"I went back to Greenville Tech to learn how to be more professional."
Harry Dent is living in a transformative moment – as a student leader, an entrepreneur, and a brand-new fiancé! Since he enrolled in the Human Services program at Greenville Tech, all kinds of opportunities have opened up for him. Here are a few.
Earlier this year, you were the first student speaker ever at Greenville Tech's convocation ceremony. Tell us about that experience.
Convocation is an event where faculty and staff bring together the whole college to talk about their goals and empower one another. Typically, the President does a big presentation, but this year, they wanted a different twist, with a student speaker. And two leaders at the college were instrumental in making that happen.
One was Gina Terry, an instructor of mine who is also the Director of Counseling at Greenville Tech. She had previously nominated me for the Unsung Hero Award. Her faith in me gave me a lot of motivation to speak about breaking down barriers and being successful.
The other was Wendy Walden, the Vice President of Executive Affairs. She had heard me speak at a different event and really gave me my entry point to speak at Convocation. And you know, I'll thank her a hundred times because she took a huge risk to give me the opportunity of a lifetime.
The process was pretty simple. I did a couple of mock interviews with her and shared a little bit of what I was going to say. I wanted to speak about how students sometimes come into college with a lack of interest, a lack of vision, and a lack of confidence. In fact, that was my personal experience when I attended Greenville Tech back in 2014, straight out of high school. (Now, in 2023, it's entirely different.)
The week of the event, I practiced the speech in the actual location so I could get past that initial freeze-up moment! But one thing I noticed when I spoke is that, when you truly believe what you're saying and consider the impact it could have on others, you forget there's a bunch of eyes on you and you just try to deliver your message with passion and purpose.
Having people like Wendy and Gina who believed in me and empowered me… there's no better feeling in the world. And it makes me want to give that back to others.
You mentioned that your experience at Greenville Tech now is very different than when you first attended back in 2014. What was that initial experience like?
When I came to Greenville Tech back in 2014, I was so busy trying to impress others around me that I lost myself in the process. I wanted to fit this "cool" image that really wasn't cool at all. I was interested in computers and recording music, but I felt like everyone would label me as a "tech guy" or "computer nerd," and I didn't want that.
I also thought college was about partying. So I became that guy who started every party. Unfortunately, I didn't surround myself with wise people who would tell me the truth, that I wasn't setting myself up for success. While I was drinking the most, they were drinking just a little and watching me make a fool of myself. A lot of people I partied with got their degrees and moved on. I was the one still stuck trying to figure life out.
That behavior impacted my academic performance as well. And zeroes add up! We like to think of that as failure. But "failure" and "no effort at all" are two different things.
So you took some time off to try to figure things out. In the process, you launched two businesses. Tell us about those.
My first business is a lifestyle brand, Hustle Grind Stack. In 2016, I finally started to realize that I couldn't just sit around and wait for life to happen. I had to take the initiative and hustle. I had to have commitment and consistency, so I had to grind. And I had to stack and be smart about my wealth and my money habits. I have merch available on my website – everything from hoodies and t-shirts to beanies and bucket hats – that promotes that message.
My other business is Applying Pressure Productions. It's a media company that specializes in photography and videography. We do everything from graduations and baby showers to weddings and holiday pictures. I have also worked with some incredibly talented rappers to create music videos, but none of them were professional. Their talent was incredible, but they didn't know how to properly communicate. They didn't understand the importance of turnaround times or scheduling.
I didn't want to operate my businesses that way. So I went back to Greenville Tech to learn how to be more professional.
Listening to podcasts also helped with that decision, right?
Yes, I listen to all kinds of podcasts! My favorite is Eric Thomas's Secret to Success. I also enjoy learning about financial literacy from Dave Ramsey. And I listen to everything from mental health podcasts to entrepreneurship podcasts to cooking podcasts.
But one that really blew my mind was when the guy said he was getting ready to deploy with the military, and he had to write a will. So he started listing his video games, his tv. But the people around him were writing down so many other things. It made him realize he didn't have anything.
I had that same experience when it came to resume building. I just sort of drew a blank while everyone around me was putting down their volunteering experiences and academic goals and networking connections.
I wanted what they had, and I figured Greenville Tech could help me achieve it. And it has – in so many ways!
I'm part of the African American Male Scholars Initiative (AAMSI). I work as a Peer Support Leader with the Counseling Services Department. And I'm an active member in the TRIO Student Support Services program.
Through my involvement I can let other students know about the resources that are available to them at Greenville Tech – cultural trips, financial aid workshops, LinkedIn networking, a full-time life coach. Those things were there back in 2014 too. You see, the college hasn't really changed as far as how it operates. What's changed is how I view the college and what's available to me there.
We're sure our readers can sense your passion for self-improvement and service to others. But you've also got some other exciting news. Do tell!
I recently proposed to my girlfriend, Ty! She graduated from the Nursing program at Greenville Tech, and we went to dinner afterwards with her family. I got down on one knee – did the whole shebang. So yeah, the glow's extra hard right now!
Congratulations to both of you! Has she inspired your college and career journey?
When we first met, she had already earned her bachelor's degree in healthcare administration, but it had been hard to find jobs in the field that would compensate for her four-year education. She was working for a call center and had moved up really high in that company. But she didn't want that to distract her from her long-term goal of becoming a nurse. So she decided to go back to college to get her Nursing degree.
We started dating right when she was doing her prereqs, so I watched her go through her whole program. It takes a lot of courage to step back into that educational journey again after already having a bachelor's degree.
It's funny because my last job was at a factory, and there were two ladies there who told me that I had so much potential, that I should try for bigger things. They're the ones who first planted that seed that made me reconsider college. And then my girlfriend – I mean, fiancée! – nurtured and watered that seed and put sunlight on it to make sure that the roots would grow. To watch her succeed has been so uplifting for me.
We think Harry and Ty sound like a perfect pair! With their education, dreams, and desire to serve and empower others, we can't wait to see what the future has in store for them.