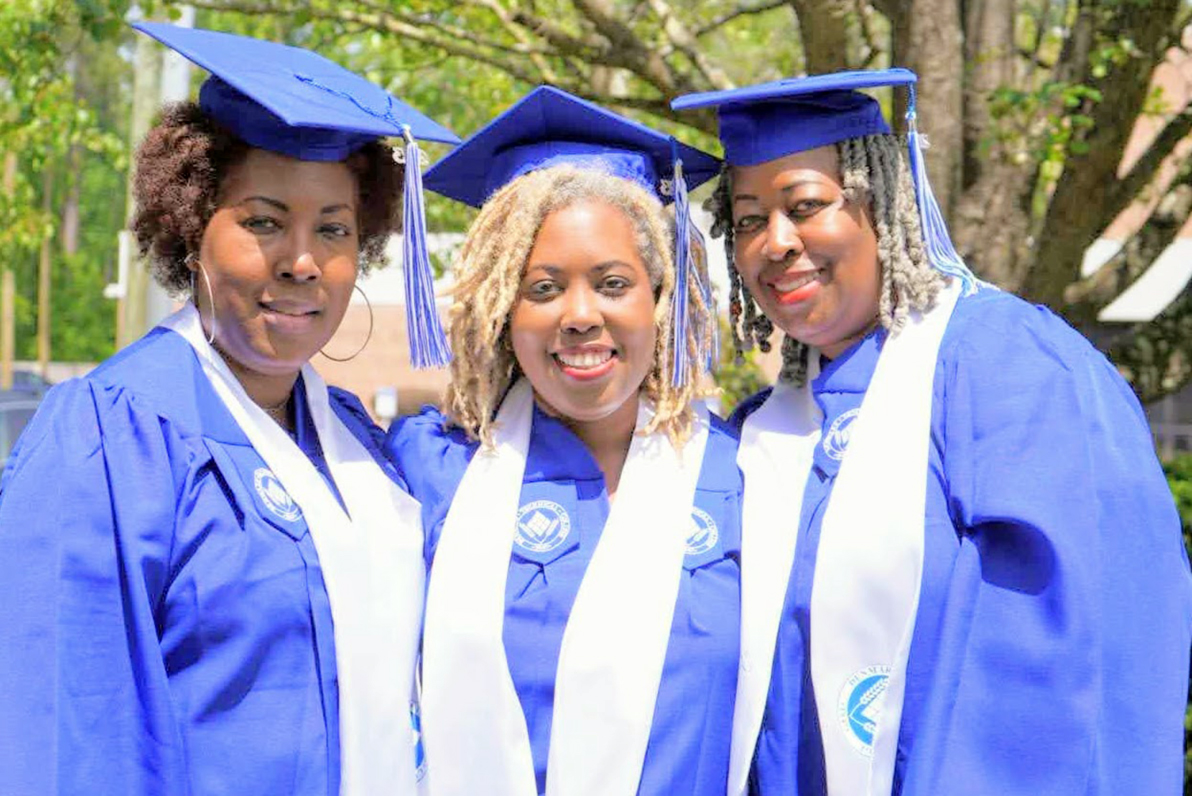 The Martino Sisters
Denmark Technical College
"Transitioning from one field to another is risky, but I'm willing to step out in faith. Without any risk, there's no reward."
For this interview, we are delighted to introduce you to Tongie Martino, Tanya Martino, and Tonia Martino Governor, three sisters who earned their degree in Cybersecurity from Denmark Technical College. "When we designed the [10-month Fusion Cyber Virtual RMF Bootcamp], one of our goals was to diversify cybersecurity by removing barriers and providing high-level training for mid-career workers," says Christopher Etesse, founder and CEO of Fusion Cyber. "The Martino sisters are really at the heart of what this movement is all about.
Duo stories are rare and special, but trio stories are extraordinary! How did your story begin?
Tongie: One day I stumbled across a YouTube video about cybersecurity, and it was saying how there were a lot of opportunities in this field and how so many jobs were vacant. That's what got me excited about cybersecurity. I started talking to a friend who was already in the industry, and every time we spoke, he would tell me a little bit more about how I could get into cybersecurity. When he told me about this program, I figured I was meant to be in it.
It did not take much for me to convince Tonia. She is very determined, and the word can't is not in her vocabulary. Once I told her about the opportunities available in cybersecurity, she was willing to take the plunge with me. Now as for Tanya, it took some time for her to get on board. She's more of a researcher – the type who will ask 1,005 questions!
Tanya: I am, it's true! Tongie was talking about getting into cybersecurity every day, from sunup to sundown. She was talking about all these things she would be able to do with a cybersecurity salary, where she could work, how she would have to study to pass the certification. It must have planted a seed. So I decided to try it. If I got in, I got in, and if I didn't, then I'd know if wasn't for me. I happened to get in.
You've all pursued very different careers for your paths to now converge. Tell me about the transition.
Tonia: The transition was probably the most obvious for me. I've been working as a contractor for Google in Moncks Corner for 15 years. With Google's ties to cybersecurity, it was exciting for me to come to work and know a lot more than I did previously. The training I received in the Cybersecurity program taught me to be better at my job.
Tanya: For me, the program was not such an obvious choice. I'm a special education teacher in a general education classroom, which means I'm teaching 107 students a day in 90-minute classes. It was challenging for me to keep up with the program's fast pace, but the opportunity to elevate my skillset and income appealed to me. I became a single parent at age 19, and I've made quite a few sacrifices over the years to create a stable environment for my child. Now that she's an adult, I can focus on the elevation of self along with modeling for her.
Tongie: Making the transition from healthcare to cybersecurity is not as unlikely as you might imagine. After the pandemic, the telehealth market has grown tremendously and keeping patient data safe is directly linked to cybersecurity. Transitioning from one field to another is risky, but I'm willing to step out in faith. Without any risk, there's no reward.
How did undertaking this together make it easier?
Tongie: My sisters and I have always been pretty tight, but they can still get on my last nerve! They wouldn't be sisters otherwise, right? But seriously… during our training, it seemed like if there was an area where I was weak, another sister was strong, and vice versa.
Tonia: We formed a study group together and piggybacked off each other. And we were all influenced by our mother's inspiration and example. Education and family meant everything to her. She pushed all of us to finish high school and college, to aim high and walk proud. She used to say that no one can take knowledge away from you. She motivated us to stick together and be our best. Ours is a relationship that can't be broken.
Tongie: Our mother did not complete high school, and for that reason, I believe she wanted more for us. She wanted us to attend college. In fact, she insisted that I go to Voorhees College. She wanted me to follow in my sister Tanya's footsteps. Or maybe she just wanted me to be on campus to keep an eye on her!
Tanya: Our mother was one classy woman, and this moment would have made her proud. She died of lupus disease two days before Mother's Day in 2005 at the age of 58. Right before she died, I encouraged her to enroll at Denmark Tech to get her GED and then take floral design. She didn't – I suspect because of fear; however, she encouraged our father to attend Denmark Tech for welding. He enrolled and completed the program. It seems full circle to me.
Tonia: To honor her legacy and the way she valued education, we are working to a create a scholarship in her memory.
What a wonderful way to celebrate her impact on your lives and to pay it forward! And your family seems like loyal supporters of Denmark Tech.
Tongie: Denmark Tech is small but mighty! Because it has so many programs to choose from, you can really take your career to the next level and dream bigger.
Tanya: And because it is an HBCU, it benefits students in so many vital ways: lower tuition, a nurturing community, an environment that promotes excellence, student experience, and other advantages missing in many schools. I'm a proud Brand Ambassador for HBCU Times magazine because of my love for HBCUs – including my alma maters, Denmark Tech, Voorhees College (now Voorhees University), and Clark Atlanta University.
Tonia: When an HBCU like Denmark Tech offers a program that promotes diversity in STEM-related fields, I know that, as a black female, I can be a role model for young girls of color. My advice for them would be to first believe in yourself, love yourself. Aim high. Put God first. And work hard at what you want out of life.
One final question, just for fun: as recent Cybersecurity program graduates, what's your favorite thing to do on a device?
Tonia: Networking. It allows me to travel far and come in contact with so many opportunities.
Tanya: I like searching and discovering new things.
Tongie: I like to look at YouTube videos. After all, that's what led me to pursue cybersecurity in the first place!