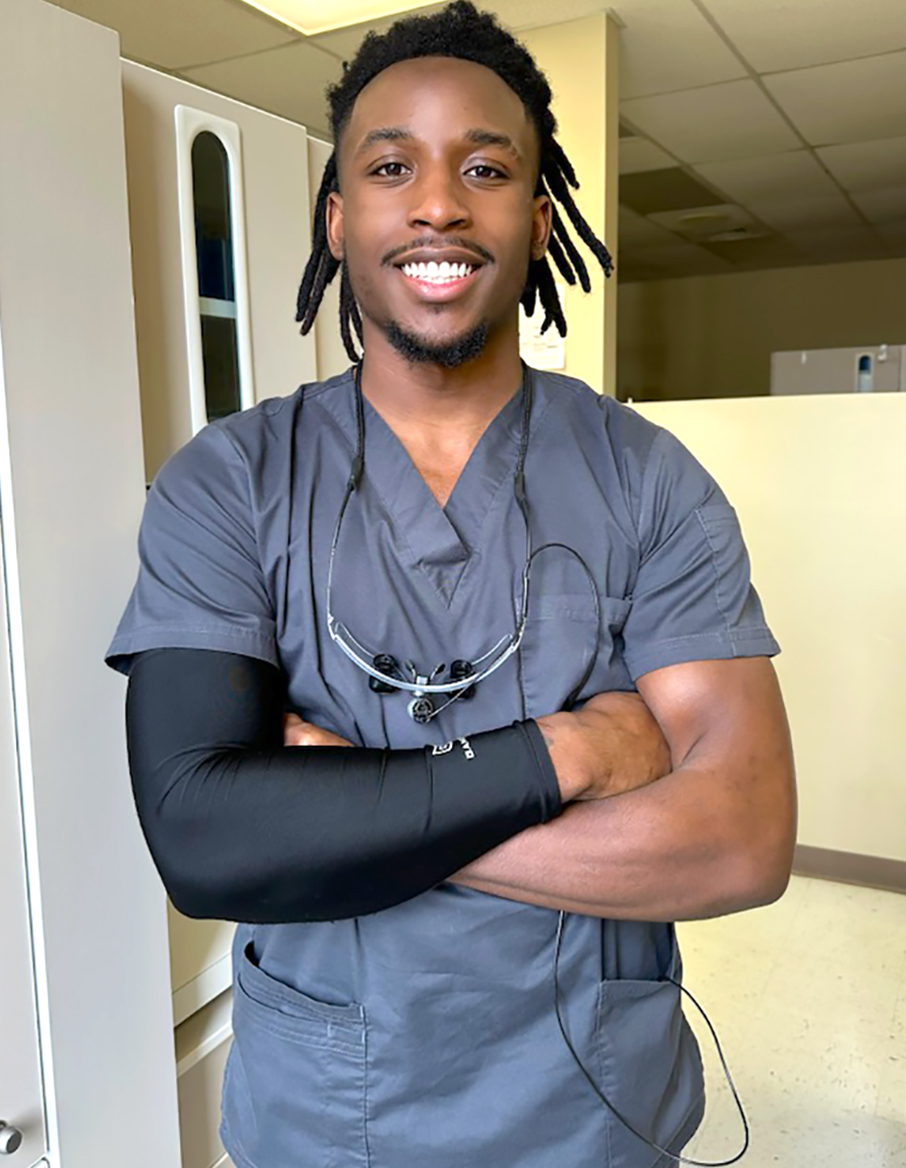 Micah Yates
Florence-Darlington Technical College
"Sometimes you have to make sacrifices in the short term to have the successful future you really want."
Micah Yates has a lot of reasons to smile! He's getting a top-notch education at Florence-Darlington Technical College, where he is enrolled in the Dental Hygiene program. He was a starting player on the FDTC team that went to the JUCO World Series in 2021. And he's got big plans for making a difference in his local community after graduation. We caught up with this impressive young man to hear about his experience at FDTC – and what lies ahead.
Let's talk baseball. How has the sport played a role in your college career?
I played baseball at Sumter High School, and a few of my older teammates went on to play at FDTC. Plus, I knew some of the coaches there, so I already kind of had a connection. I also knew that I wanted to study Dental Hygiene. FDTC had that major, so it just made sense for me to go there to get my education and play ball.
My freshman year was 2020, and we had a good shot of going to the JUCO World Series then, but the season got cut short because of COVID. The next year, we had a lot of returning guys as well as a lot of D1 transfers who came in, so we had a really good season. We broke the wins record at FDTC (at the time), and we made it to the World Series in Grand Junction, CO, which was such a fun experience!
After that, I made the difficult decision to stop playing baseball. I had a few different options as far as D1 and D2 colleges and universities that I could have transferred to after completing FDTC's Dental Assisting program. But they didn't have the Dental Hygiene major that I wanted to pursue because that program is really only offered at technical colleges. I had to figure out which was more important, and for me, that was my career. Sometimes you have to make sacrifices in the short term to have the successful future you really want.
That does sound tough! And yet you had enough foresight and vision to know what would be most beneficial for your future. Your interest in dental hygiene – where did that come from?
Originally, I was going to study Mechanical Engineering, and I was in a program for that in high school. I was doing well in the program, but I didn't have the imagination that it required to be creative every day. So I talked to my coach at practice one afternoon to get his advice. He's a dentist, and he encouraged me to look into the dental field. He said he thought I would be really good at it because I like to be around people. So he was the one who kind of put it in my mind because I had never considered it before.
I have a cousin who's a dentist, and she said the same thing – that it would be a good fit for me. And I have another cousin who is a hygienist. I job shadowed her one day and just kind of fell in love with the work. I felt like God was trying to tell me something because He kept putting it right in front of me. So I took all of those encounters as a sign, and I've been running with it ever since.
Tell us about the coursework. How rigorous is it?
I completed the Dental Assistant program last year and am now working my way through the Dental Hygiene program, so I'll tell you about classes in both of those programs. The Tooth Morphology class was mostly academic learning: eruption patterns, characteristics of the teeth. That was a really challenging class. So was Head and Neck Anatomy – learning the nerves of the teeth, the anatomy of the head. I just took Pharmacology, which is medicine, and that was tough too. I'm getting ready to start Nutrition. The programs are fast paced, so it's good to get ahead and stay ahead. If you don't have a plan for yourself, it's easy to get behind.
What I enjoy most are clinicals. FDTC has an on-site dental clinic where we see patients from the community. It's like a regular dental office except that we don't do fillings and restorative procedures. We have a dentist on site, but he's primarily there for supervision. When people come in, we do cleanings, x-rays, sealants, fluoride treatments. But because it's students who are providing the care, and because a lot of our patients haven't been to the dentist in a really long time, appointments are longer and our instructors check behind us. It's great to have a service like this in the Florence area both for students who are learning and for community members who need affordable oral care.
Can you share a memorable experience you've had with a patient at the clinic?
Hmmm… One patient I had hadn't been to the dentist in over a decade. I knew they were nervous about me getting in their mouth and seeing what they had going on, but they were also there at the clinic, so clearly they wanted the care. I just had to break down that barrier of them being embarrassed and provide reassurance: I'm here to help you. I want to provide this service for you. I want to take care of you. If you have any questions, please ask. You can stop me at any point, and I'll explain what I'm doing.
After we got done, they told me that I was the first person in a long time in the healthcare system that actually treated them with respect. That made me feel really good and taught me a lot about responding to different people's experiences with compassion because not everyone is able to go to the dentist twice a year. It put things into perspective for me.
My school does a great job of preparing us for encounters like that. Instead of like in private or corporate offices, where a hygienist might get 40 minutes with a patient, we get anywhere from one to three hours with them. We have time to do thorough cleanings, take x-rays, and educate them about proper home care.
And that's the kind of quality care model that you want to use when you open your own dental practice in the future?
Yes. I want to truly help my patients – not just get a paycheck. I would love to eventually franchise an office, but I want to start locally – somewhere around Florence or Orangeburg – because there are a lot of low-income families in those regions. I want to offer affordable dental care for families who are struggling financially but still want to maintain their oral care for themselves and their children.
Your servant's heart is so inspiring! Any final advice you'd give to someone who is considering a technical college?
I think a lot of people want to go to a four-year college for the social scene. But when I get out of tech, I'm going to have a job right away. At a technical college, once you get past your general courses, every class you take is geared towards the career you will be doing when you graduate or an industry certification. And technical colleges are great for getting on-the-job training while you're learning – like at the clinic and elsewhere on campus. We're able to do our work and actually see the results – not just read about it in a textbook.